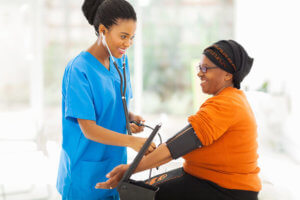 Uncompensated care in our community
Last year, Visiting Nurse Health System provided $3.4 million in uncompensated care for uninsured patients and families with special needs. But the needs are great and there's more to be done.
Here's how Visiting Nurse, which delivers care to more than 6,000 patients each day across 26 metro Atlanta counties, is helping patients in need — and needs your support.
Evolving to meet needs
Like all healthcare providers nationwide, Visiting Nurse is facing an unprecedented shortage of qualified nurses available to deliver healthcare in Georgia. In addition, with patients being discharged from hospitals faster following surgeries and treatment for illness, our patients requiring home healthcare are increasing in both number and in the acuity or severity of their post-discharge state.
As the healthcare industry continues to focus on better care, better health and better value, health is moving away from an in-patient setting and into the community. In home healthcare, that means our workforce must be highly skilled and trained in a variety of increasingly acute patient needs such as specialized wound care, pain management, IV and feeding tube management, and other high-risk conditions that were once only treated in a controlled hospital setting. This kind of care is now routinely required in the patient's home.
"One truth is that almost all of us will one day be faced with caring for a parent, grandparent or loved one in need of home healthcare and/or hospice care. The majority of seniors, when asked, strongly express their desire to remain in their own homes as they age. Home healthcare is the future of healthcare delivery and we are the largest non-profit in Georgia dedicated to serving all patients in need," says Norene Mostkoff, CEO of Visiting Nurse Health System.
Visiting Nurse also seeks to ensure our clinicians remain experts at providing care in the home, and that our organization provides the highest-quality care for all patients. Through broad-based community support, Visiting Nurse can remain the community's safety net when we or our loved ones face the inevitability of aging and the desire to do so with dignity and compassion.
New efforts to serve more
It is a perfect storm of increasing numbers of patients who require healthcare at home, increasing acuity of those patients, and an inadequate supply of highly trained nurses equipped and available to deliver this kind of care. It takes a special kind of nurse to work in the home of a patient independently, outside the support structure of a hospital setting.
One way our organization is working to grow our labor pool is in 2015 we launched a BSN Residency program with local nursing schools for new graduates who have an interest in home healthcare. Thanks to modern technology and a dedicated veteran nursing staff, we are able to train these new graduates and then work with them using two-way video in the patient's home to deliver care, under the watchful eye of more experienced nurses who are there in real time via video to assist newer nurses as they attend to patients. We are seeing promising success of this program, enabling new nurses an opportunity to work in home healthcare, having already "graduated" four nurses into the field following their residencies.
How you can help
Visiting Nurse, which is Georgia's largest nonprofit home healthcare and hospice provider, would not be able to fulfill our mission or serve as a safety net for Atlanta without the generous support of the Atlanta donor community.
"We are grateful for the generosity of the community. Our donors ensure that all our patients have dignity, compassion and expert care no matter their ability to pay," Mostkoff says.
Because of our donors, our nurses and clinicians are focused on patient care and make decisions based on what is best for the patient, not on what is best for our bottom line. We are mission driven, not profit driven. That said, we are only able to continue to offer this same level of care for the uninsured or underinsured with an increase in community support.
We are in the midst of a $8 million capital campaign. After the first year of the three-year campaign, our organization crossed the halfway mark, raising just over $4 million in 2015 through the generous support of local foundations, our Board of Directors and donors. We are eager to keep the progress toward meeting our goal moving forward.
Please consider helping in these ways:
Help us reach even more families this year by donating online to support our mission, or by calling the Office of Advancement at 404-215-6010
Refer those seeking employment as a nurse to our Careers page
Follow us on Facebook and share our posts with your friends and family