Physical, emotional and spiritual care for you and your loved ones.
Visiting Nurse Health System / Hospice Atlanta provides person-centered hospice and palliative care. In keeping with our core mission, we provide physical, emotional and spiritual support for our patients facing a life-limiting illness, as well as their loved ones. The aim of our hospice and palliative care programs is to provide safety, comfort and dignity during the final stage of life.
Receive Hospice Care at Home or Hospice Atlanta Center
Most patients are cared for in their own home. However, our hospice care team can also care for your loved one in a nursing home, assisted living community, or any place you call home. When the needs of your loved one can be better met in an inpatient setting as determined by a hospice physician, Hospice Atlanta Center in Atlanta, GA, may be appropriate. These stays are short-term and sometimes transitional to control symptoms until your loved one can return home or be comfortably cared for in another setting. Medicare and most insurance plans pay for inpatient stays that are considered medically necessary.
If your loved one chooses to continue receiving hospice care in Hospice Atlanta Center after there is no longer an acute medical need, the cost of room and board becomes the responsibility of the patient and family. Our staff can provide information to help you with these decisions. To learn more about Medicare's Hospice coverage, see Medicare Hospice Benefits. You may also read more about our Residential Hospice Care program here.
Family and Caregiver Support
Caring for a loved one in the home can be a demanding, stressful task. That's why Visiting Nurse extends its support beyond patients to include caregivers and family members. We provide a variety of services to help you take care of your loved one and yourself.
Hospice Respite Care
If you are caring for a loved one, you may have little or no time for yourself. We offer respite care to give you that time. A caring and dependable volunteer will come to your home and stay with your loved one so you can run errands, visit friends or take a walk. Hospice patients may also go to our inpatient facility, Hospice Atlanta Center, for up to five consecutive nights to give their caregivers respite time. Additionally, our Alzheimer's, Parkinson's and Long-Term Care at Home programs offer respite care in the home.
We do all we can to assist you in your caregiving duties. This support includes:
A 24/7 nurse call line to answer any questions or concerns you may have at any time.
Counseling and/or referral to community resources to address your emotional needs.
Referral to valuable community resources that can provide needed services, such as home-delivered meals, financial support and long-term care decision making.
Education about the disease, symptom management and caregiving techniques to allow you to provide care more effectively and efficiently.
In addition, our hospice services include a wide range of emotional and spiritual support for caregivers and other family members while their loved one is in the program. We provide bereavement support following the death of a loved one. This support is open to all residents of the community regardless of the patient's affiliation with Visiting Nurse or Hospice Atlanta.
End-of-Life Preparation
Our hospice services not only provide emotional and spiritual support for family and friends, but also give direction to caregivers to help them navigate end-of-life resources. Under the direction of our social workers, chaplains and bereavement coordinators, families are assured support through this difficult time.
Volunteers play an important role in home hospice services and at Hospice Atlanta Center, and there are many volunteer opportunities. Consider volunteering your time and talents.
Questions? Please email us if you need more information about our hospice program.
Atlanta's Trusted Hospice Provider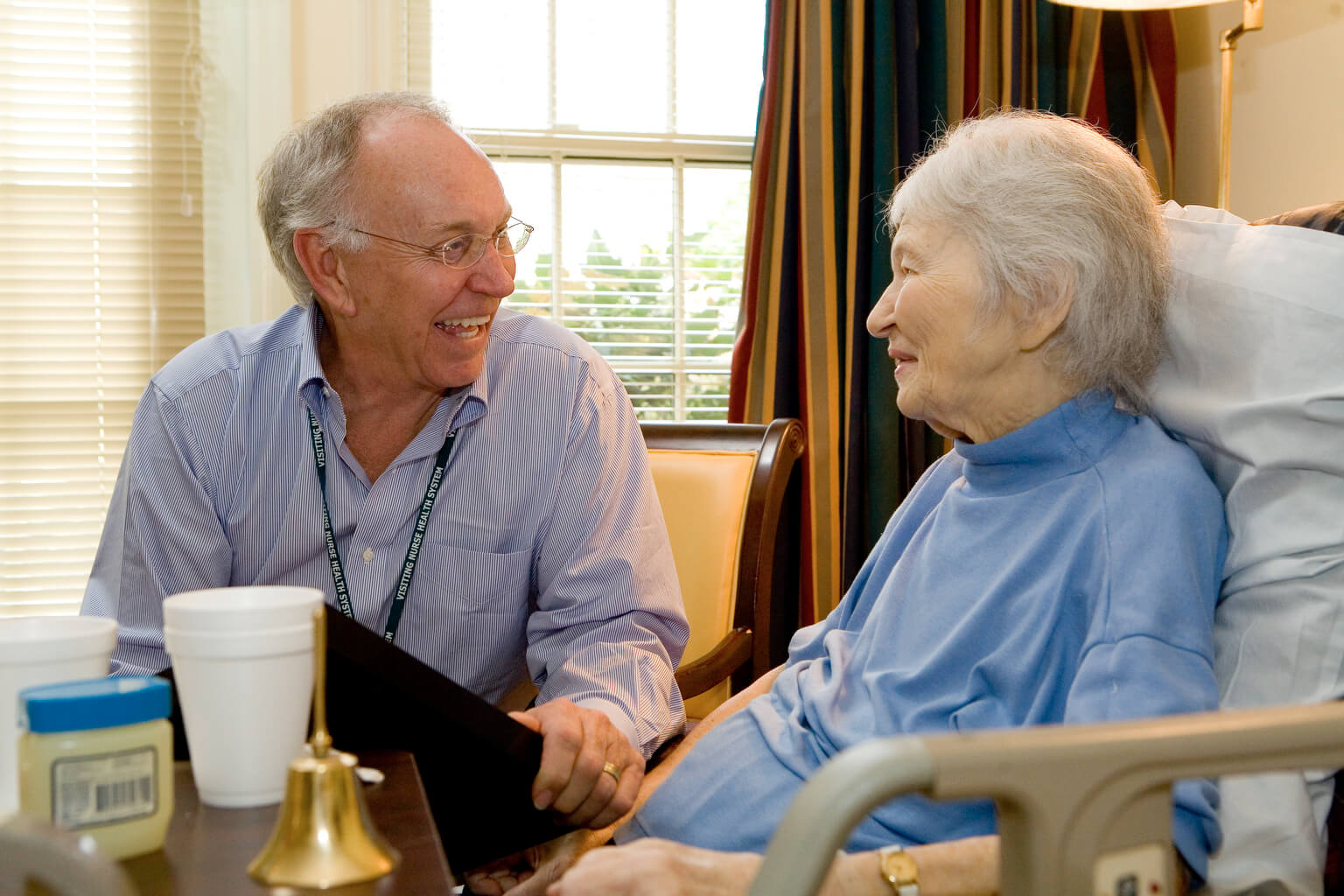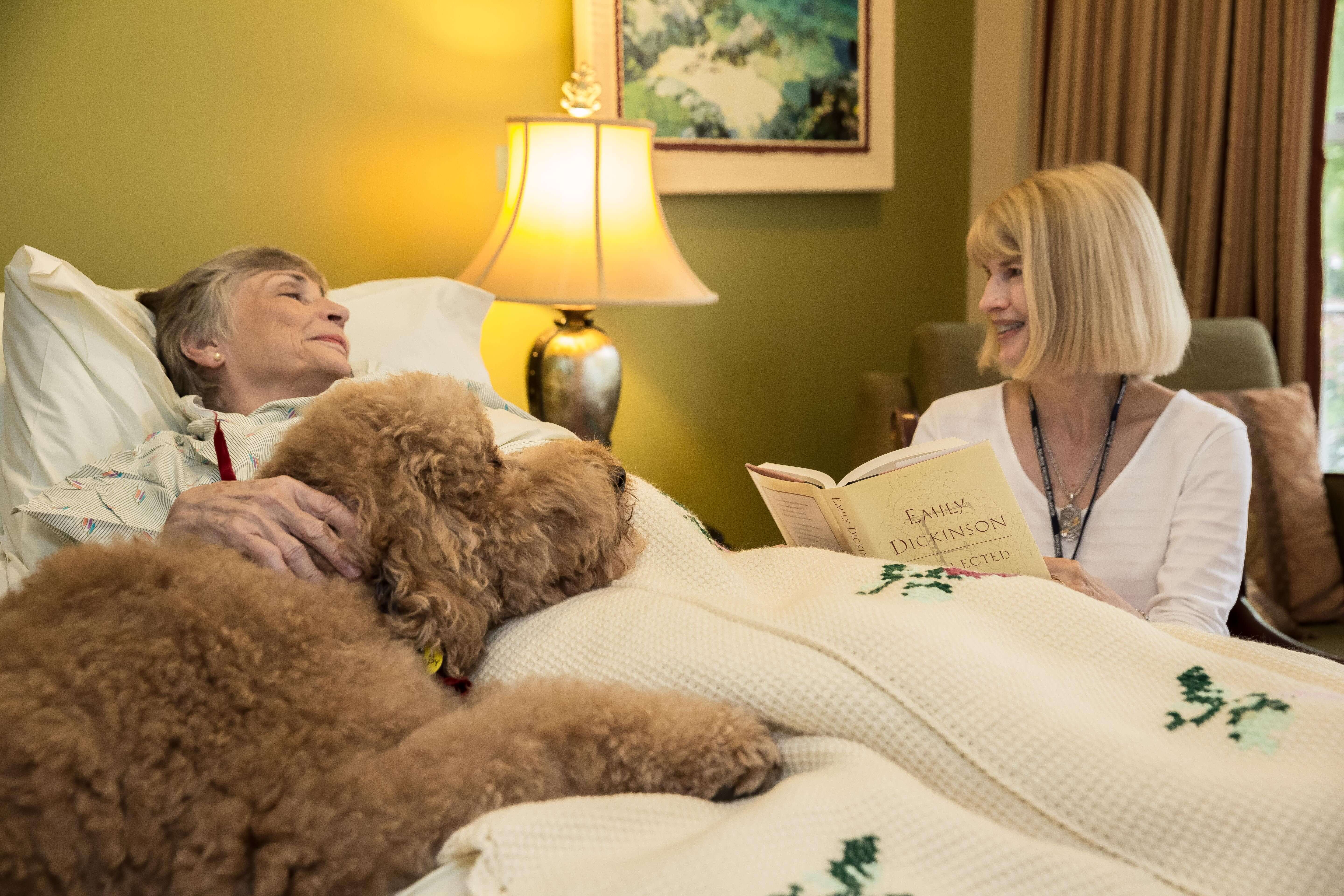 You and your loved ones will have a consultation with our staff to learn our processes while we learn your needs.
We will work with your physician to obtain a referral, and we'll engage in ongoing consultation with him or her.
We will provide education, training and advice to help you keep your loved one comfortable and symptom-free.
You may be referred by our social workers to community resources for legal or financial services and emotional support for you and your loved one.
We will provide needed medical equipment and supplies.
Our chaplains will work independently or with your clergy to provide spiritual solace.
Our home health aides will help with bathing, personal care, grooming and comfort.
Our volunteers can run errands, provide companionship, do light housekeeping, prepare a meal or help with pets.
We can help provide access to routine health care and nutrition for your pets through the Pet Peace of Mind Program, including dog walks, delivering dog and cat food and cat litter to the patient's home, and pet transportation to the veterinarian.
Respite care is available for up to five consecutive nights at Hospice Atlanta Center to provide temporary relief to the patient's primary caregiver.
Bereavement support is available for 13 months following the loss of a loved one, and on-going support is provided as needed.
Camp STARS, a bereavement camp for families, is offered two weekends a year.
Our We Honor Veterans program ensures end-of-life care that recognizes and meets the unique needs of our nation's Veterans and their families.
Our hospice team will do everything possible to manage your loved one's pain and other symptoms. Our hospice interdisciplinary care team consists of:
Hospice Medical Director/Physician
Nurse Practitioner
RN Case Manager
RN and /or LPN
Hospice Aide
Medical Social Worker
Hospice Chaplain
Specially trained Volunteers
Dietary
Bereavement Coordinators
Hospice Atlanta and Visiting Nurse maintain a nurse call line 24/7.
"Excellent Care Delivered" to patients and families was substantially higher than the national average.