We Honor Veterans
We Honor Veterans
Hospice Atlanta is proudly bringing care home to those
who served our country by partnering with We Honor Veterans.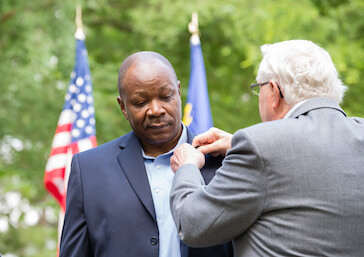 We Honor Veterans is a national campaign that advocates for the hospice care of veterans.  It is a collaboration between the National Hospice and Palliative Care Organization and the Department of Veterans Affairs which have set standards for all hospice systems concerning end-of-life treatment for these heroic individuals. Veterans often require medical, emotional and spiritual end-of-life care specifically tailored for them. Hospice Atlanta is greatly honored to be a partner in this important alliance.  To qualify, we have committed to:
Providing veteran-centric education to all our staff.
Administering the highest standard of care and support to our veteran patients and their families.
Strengthening our relationships with the VA medical system and other veteran-based organizations.
Giving veterans and their families increased access to our hospice services.
In addition to these We Honor Veterans' requirements, Hospice Atlanta provides veterans with other special services, including coordinating care with the VA and helping to assess benefits, conducting special pinning ceremonies celebrating their years of service and connecting veterans to other veterans.
We have a special place in our hearts for these men and women who so bravely served our country.  It is how, with our utmost respect, we proudly can be of service to them.
If you are a veteran interested in volunteering with Hospice Atlanta to help us recognize, thank and share companionship with our veteran patients, please email our Volunteer Coordinator or call (404) 848-7955.
Veterans' Stories
Hospice Atlanta and StoryCorps invited these local Veterans to share their stories about their dedication to protecting and preserving our freedom, as well as their experience with hospice. Click the links below to listen and reflect.
Ron Stewart, Hospice Volunteer
Hospice Atlanta Center Veteran volunteer Ron Stewart, 83, speaks with Jim Fox about his time in the British Royal Air Force (RAF) when he enlisted in 1951 and served in England and Germany. Ron has been a volunteer with Hospice Atlanta for more than 7 years and was honored with our 2012 Community Service Award.
Jerry Fleeman, Hospice Volunteer (Camp STARS, Pet Therapy)
In 1973, at the age of 18, Jerry Fleeman enlisted and trained as a medic in the Army.  After a robust 17-year career, a medical discharge placed him back in the civilian world. Jerry has volunteered at Camp STARS for many years and also actively participates in our volunteer program by providing pet therapy with his two dogs. Here he is talking to fellow Hospice Atlanta volunteer Jim Fox about his post-military life and career.