Pet Peace of Mind Program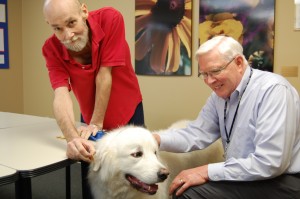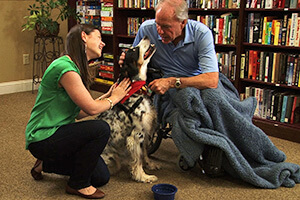 The unconditional love and companionship a pet offers is invaluable to patients in all stages of care. For home hospice patients who are unable to care for their pets, Visiting Nurse partnered with Pet Peace of Mind™, a national program that equips nonprofit hospices to serve their patients with pets that require assistance. The program's goal is to keep these patients and their pets together for as long as possible. Patients benefit emotionally by having their four-legged companions with them regardless of their own health condition.
Trained volunteers provide hands-on service to dogs and cats including grooming, picking up and delivering food and supplies, transporting pets, changing litter boxes, and taking pets for walks. In some cases, financial assistance is offered in the form of routine veterinary care, some medications, and shopping assistance for pet food and cat litter.
Click here to make a donation to the Pet Peace of Mind program. On the Donate Now page select Pet Peace of Mind in the "Designation" pulldown menu.