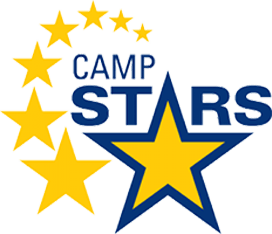 A Bereavement Camp for Families, Thanks to the Generosity of Our Community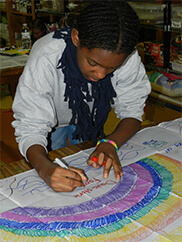 When a loved one dies, people grieve and often struggle to cope. Our Camp STARS bereavement camp for families is designed to help people understand that their feelings of loss are normal and that they are not alone. We provide a safe environment for families to meet others in similar situations and learn how to grieve in emotionally healthy ways. Family members will find the weekend filled with opportunities to express their grief in groups, bond with family members, establish new friendships and just have fun. The camps are staffed by counselors, social workers, chaplains and others who have experience working with the bereaved. Community volunteers are also integral to the Camp STARS program.
Camp STARS, founded in 1994 as the first bereavement camp of its kind in Georgia, is located 50 miles east of Atlanta on 300 beautiful acres at Camp Twin Lakes in Rutledge, Georgia. This unique facility provides a great camping experience in a nurturing, fully-accessible environment. There is no cost for camp other than a small administrative fee of $40 per family. Camp STARS relies on the generosity of The Junior League of Atlanta and other community donations to make it possible for families to attend camp regardless of their ability to pay.
How to Register and More Information
The next Camp STARS is November 2 – 4, 2018. Space is limited.
For more information on our bereavement camps, please email Deana Porter or call 404-869-3072.
Testimonials from Families attending Camp STARS:
The counseling sessions were the most helpful to my family because it was a time of starting the process of letting go and releasing the pain of losing our mother."
It was nice to be able to go to a group and listen to similar stories, even if we were not ready to share as much as others."
Everyone was kind and we all connected because we shared the same grief in losing a loved one. It allowed us to be comfortable in sharing our hearts with each other."
We had an amazing time, it was nice to be away from home. And the memories… just so peaceful."
We so enjoyed the family banner making. We also enjoyed the free time for roaming and exploring the beautiful setting."
Schaune Griffin, Bereavement Counselor at Visiting Nurse:
It is very rewarding to see how the camp experience helps families adjust to changing roles after the death of a loved one. An extended family—grandmother, adult children and their spouses, and grandchildren—attended one year after they had lost their "social glue" through the death of the adult sister who planned family gatherings around Sundays and holidays. The family had not been together since her homecoming service. At camp, in their support group, her siblings and their spouses realized this and talked about taking on their sister's role as part of her legacy—keeping the family truly together after her death."