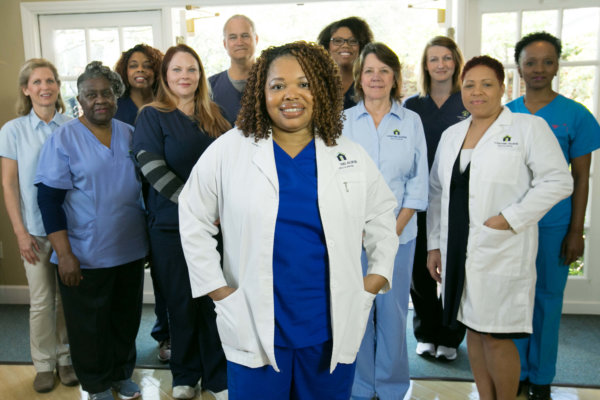 Considering working in Home Healthcare?

 Ride along with Visiting Nurse to experience a day with a RN.
Join us in Bringing Healthcare Home.
If you're one of those people who won't settle for ordinary, and want to be extraordinary by touching the lives of others, Visiting Nurse | Hospice Atlanta may be the ideal career choice for you.
As the leading provider of home health and hospice care in Atlanta, we offer a great variety of highly rewarding job opportunities for unique individuals just like you. We understand that you want to truly make a difference in the lives of patients and their families.
As a member of our team, you can utilize your skills, share your compassion and rare talents to provide a full continuum of care in the comfort of a patient's home.  In addition, you can apply your gifts by providing aging services and hospice care to adults and children.
As part of our staff, you will always be given:
Professional support
Ample resources
Advancing healthcare technology
On-going clinician education
If you are one of those exceptional individuals who want to make a difference, we want you on our team.  Check out the career opportunities and apply.  You can join us in truly touching lives.  And Bringing Healthcare Home.
How We Care For You – Rewards and Benefits
Health and Wellness
Our full benefit plan provides both full and part-time associates coverage to care for you and your family.
Health coverage for you and your dependents
Telemedicine
Health Savings Accounts
Flexible Spending Account
Dental and Vision Insurance
Life Insurance for you and your dependents
Short and Long Term Disability
Critical Illness and Accident Coverage
Hospital Indemnity Insurance
Employee Assistance
Work-Life Balance
We all need time away from work to recharge, travel, and spend time with friends and family or time to take care of our personal lives.  Visiting Nurse offers paid holidays for our full-time and part-time associates immediately upon hire and a generous time off plan that begins accruing on day one.
Financial Savings and Retirement
We are committed to helping you meet your financial objectives.  Through our generous matching 403(b) plan and financial advisors, we are here to help you meet your long range financial goals.
Life-Long Learning
Our training programs for our new hires ensures you have the right training to succeed in your role.  Our electronic medical record platform, Home Care Home Base, provides our clinical associates with an easy to learn platform in delivering care to our patients.
As a non-profit organization, our organization is a qualified organization for the Public Service Loan Forgiveness Program.
You'll also find ongoing training through our virtual University with access to hundreds of courses that provide Continuing Education credit.
Providing the Tools for Success
Company provided tablets and cell phone benefits are available for our field associates providing the tools necessary to assist you in being successful in delivering care to our patients.
We'd like to give a big "Thank You" to our employees who make a real difference every day in the lives of our patients. They are why we consistently receive high patient satisfaction ratings and have among the lowest readmission rates in the region.
Here are a few words by our staff about their rewarding careers and being able to live their passion at Visiting Nurse | Hospice Atlanta.
Follow our Twitter feed for our latest job posts.