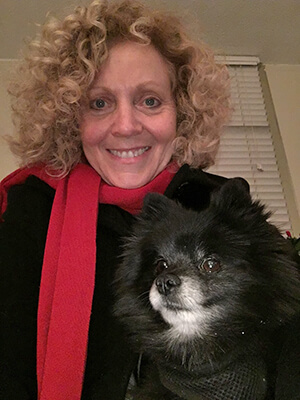 Furry Family Members Need Care Too
For those of us who love our pets, the thought of having to give them up for any reason is crushing. For the person who is at the end-of-life, giving up a pet may feel especially devastating. Our pets have shared our journey. They might be what gets us up in the morning. They are the soft touchstone in our lives, and they love us unconditionally.

Pet Peace of Mind at Hospice Atlanta
To help hospice patients keep their treasured pets under their care as long as possible, Hospice Atlanta has teamed up with the non-profit organization Pet Peace of Mind® to provide a training program for our hospice volunteers. Following training, volunteers are available to walk the pet, change litter boxes, deliver pet food, and groom the pet or take it to the vet for grooming or shots.
Several goals are achieved through the Pet Peace of Mind program. The pet gets attention from our volunteer, and the patient is able to interact with a fellow animal lover who understands the hospice journey. Most patients have made arrangements for their pet after they die; for those who have not, we are able to help the patient or family by giving them information on various pet adoption agencies.
Little Things Mean a Lot
In late 2016, one of our female hospice patients asked for a volunteer to walk her small dog, Rosie, during the evenings in the winter when it was "really cold". To walk Rosie, the patient—who lived in a senior living community—had to take an elevator and walk around the building to the pet area. This was no easy task for someone who was frail and had difficulty breathing. The patient had friends in the building who helped at times, and a daughter who lived nearby and walked Rosie when she visited. Our social workers let the patient know about the Pet Peace of Mind program, and then made arrangements for four volunteers to take turns walking Rosie during the winter. In the process, they got to visit with and get to know the patient and her daughter. After her mother passed, her daughter expressed her gratitude for the extra help with Rosie during this difficult time, and for letting her mother continue to receive Rosie's love and attention during her final days.
For more information about how we can help care for a Hospice Atlanta patient's pet, or to volunteer with our Pet Peace of Mind program, contact Ann.Serrie@vnhs.org or call 404-848-7955.
(Photo is of volunteer Donna K. and one of the pets we helped.)