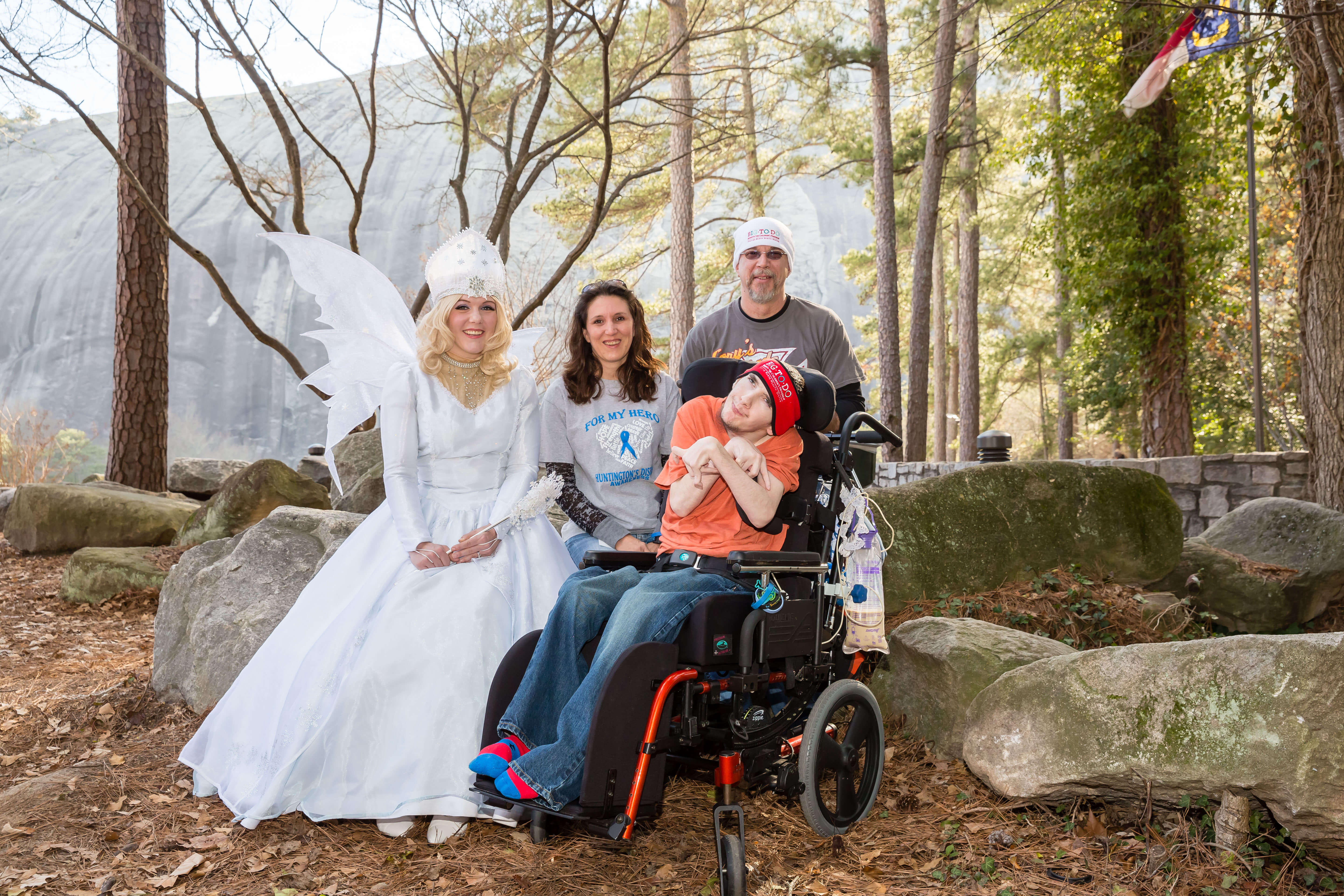 A Mother's Experience with Pediatric Hospice
Pediatric hospice is one of Hospice Atlanta's most emotional points of care. We care for children of all ages, from newborns to adolescents, with all types of life-limiting illnesses. One of Visiting Nurse's employees had her own experience with our Pediatric Hospice program. We are so proud of her resilience and strength. Here is Stacey's story.

Cory's Crusade
"I was young when I decided to marry and start having children. Young and in love, family history wasn't important to me then. I am the mother of Cory, who was born 3 months premature from trauma caused by an abusive first husband. No one thought Cory was going to make it. But I did. In his little incubator on a ventilator and feeding tube, he tried to push himself over. I knew at that moment I had a little fighter on my hands and he was going to be fine. My abusive husband left 6 months later and Cory was later adopted by my current husband at two years old.
I knew due to his premature birth, Cory would always be developmentally delayed. When he started school, he had some learning difficulties and a slight speech impairment, but he still seemed pretty much like a normal kid. When Cory turned 8, we noticed a droop in his face and a drastic decline in his ability to speak. After an MRl, we were told by a neurologist that Cory had Encephalopathy, a big word for degeneration of unknown cause. After some intensive speech therapy, Cory improved. But by age 10, we noticed he was having physical difficulties, like toe walking and dystonia. At 12 years old, he started having increased difficulty talking and by age 13, he was having trouble swallowing. I had been given diagnosis' of ADHD, spastic cerebral palsy and mental retardation, all of which I felt in my gut to be incorrect. By the time Cory was 15 years old, we were on our fifth doctor. Finally, we were admitted to Egleston of Children's Hospital of Atlanta, and after 2 weeks Cory received his true diagnosis. In April 2009, we found out Cory had Juvenile Onset Huntington's Disease, an inherited and fatal brain disorder that affects control of movement, thought, and behavior. I cried. I screamed. Then I cried some more. As a mother, I am supposed to kiss my child's hurts away. Because of Huntington's Disease, those typical motherhood pains hurt so much more profoundly than I had ever imagined. Our grieving started the day he was diagnosed and continued with every milestone and physical loss that exacerbated the fact that he wasn't able to do what his peers were able to do.
Instead of learning to drive a car, Cory was learning to use a wheelchair. The disease progressed so quickly that by age 17 he was unable to speak and unable to attend school. He became bed bound and was completely dependent on us for his every need. He did manage to graduate high school, receiving a standing ovation from his entire school! When he was supposed to be choosing a college, we were choosing hospice. At age 21, when Cory should have been celebrating with a legal alcoholic drink, he became less alert of his surroundings. Cory never had a real girlfriend, his first kiss, or went to prom. Instead, Cory would have a different experience: hospice care.
Having been a nurse for many years, I already knew that hospice wasn't what everyone believes it to be. The challenge for me was to educate my family and have them comfortable with the idea. I scheduled an evaluation visit at Hospice Atlanta, and a week later Cory was admitted. Our family became close with our nurse, Lanise, whom we liked very much. She had an aura about her; I knew I could trust her. She gave my family comfort and put us at ease through the transition into hospice care. After a few months, I realized an enormous amount of stress had been taken off my shoulders. It was reassuring to know the aide was coming to bathe Cory while I was at work so Cory's great-grandmother didn't have to hurt herself trying. It was a relief to know meds were being delivered to the home, saving me a trip and a speeding ticket rushing to the pharmacy before it closed. The fear of the financial burdens of paying for meds, diapers, and tube feedings subsided. Bringing further comfort, Lanise, Stephanie (social worker), and Elaine (chaplain) were always visiting and checking on our family. I was very fortunate to have my grandmother and my father who helped care for Cory so that I could continue to work part time. My family and the ladies from Hospice Atlanta gave me the strength I needed.
At home surrounded by family and loved ones, Cory passed two days after his big sister's college graduation, on December 12, 2015, just 2 months shy of his 22nd birthday. Seven years of grieving his losses did not prepare me for that day, or even the months and years to follow. I am still grieving, and it is something I will carry the rest of my days. People tell me how strong I am but they don't see me behind closed doors. My daughter is about to marry, and while I am very happy, these are moments that are still very hard. Cory never met a stranger; he loved everyone he met. He always offered a hug and gave the softest kisses that could cure the worst migraine. Cory loved people. He loved all the attention he got from the ladies of Hospice Atlanta, especially his aide, Terea. As I look back, I realize I never told him they were hospice nurses. He was just happy to have more visitors! I believe he always knew his time was going to be cut short here on this earth, and that's why he loved so deeply.
I promised Cory that I would fight as long as there's breath in my body. I have been to the FDA in Washington, DC, I have taken part in many conferences, volunteered with nonprofits, and started fundraisers all in hopes of finding a cure for this horrible disease. A year after his diagnosis, we created Cory's Crusade, a motorcycle ride by the community to help us build a wheelchair ramp on our home. This ride gave us so much help with his medical bills and research. Now a memorial ride, all monies from Cory's Crusade go to research Juvenile Huntington's Disease at the University of Iowa and UC Davis in Sacramento, California. We are going to fight this disease for Cory, and for all the other children and families that are affected by Huntington's Disease. No child deserves to have their life cut short and unfortunately, that's what happened to Cory. But we will ensure Cory's spirit and love is not forgotten and instead honored through our continued fight against Huntington's Disease."
Stacey's story continues to inspire everyone at Visiting Nurse | Hospice Atlanta. Stacey has used this experience to lift up others in need through Cory's Crusade and through volunteering at nonprofits supporting Huntington's Disease patients and research. Stacey's most frequented nonprofit for which she volunteers is Help 4 HD, which has a documentary coming out in early 2018. The Warriors, Fighting the Incurable Juvenile Huntington's Disease, will follow the lives of families affected by this disease, showcasing their strength and determination.
To learn more about the specialized care provided by Hospice Atlanta's pediatric program call 404-869-3000. To make a donation to help us care for our youngest terminally-ill patients please click here or call our Advancement office at 404-215-6010.
(Photo: Cory with his parents and Snow Mountain's Snow Angel at our BIG-TO-DO fundraiser)