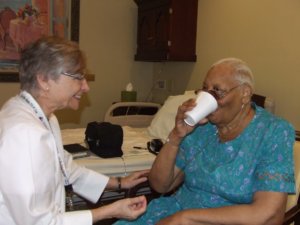 Why Palliative Care isn't just for Hospice Patients
When facing a serious illness, treatment options can be confusing. Some patients pursue aggressive treatment, while others choose to forego curative treatment and enter hospice care. However, there is another option called palliative care. Palliative care is often confused with hospice care, but it is not just for hospice patients. Many patients find palliative care a life-affirming, supportive option for dealing with their serious illness.
What Is Palliative Care?
The word "palliate" means "to ease symptoms." That is the precise intent of palliative care, which has emerged as a medical specialty distinct from hospice care. What some people find confusing is that palliative care is part of hospice care. People in hospice receive palliative care designed to ease their symptoms of pain and discomfort, but they do not undergo curative treatment.
However, palliative care does not have to occur only in a hospice setting. Palliative care can be offered as an adjunct to curative treatment. It involves a holistic approach, with a treatment team that is often made up of doctors, nurses and other medical professionals. Visiting Nurse Health System provides consultative palliative care in your home, easing symptoms associated with the medical condition itself as well as side effects of treatment.
Who May Benefit from Palliative Care?
Simply put, anyone suffering from a serious illness may benefit from palliative care. There is no limitation on age, condition or severity of disease. Some patients in palliative care are suffering from aggressive forms of cancer, while others are managing chronic illnesses such as heart disease. Unlike hospice care, in which patients generally must be within the final six months of life, there is no such condition on palliative care. This means that palliative care can be introduced earlier in the disease process. Patients can continue to receive palliative care even if they also choose to undergo curative treatment.
"When facing a life-limiting or chronic illness, it's important to understand your options. Visiting Nurse provides support for patients and their families as they navigate these difficult decisions, said Judy Herbert, manager of the palliative program at Visiting Nurse.
Palliative care can improve quality of life, ease distress and limit hospital stays during a challenging illness. Contact Visiting Nurse today to learn more about our palliative care options and find out how we can help you or your loved one.