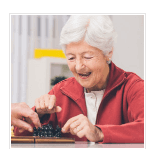 Giving the Gift of Games Could Change Risk of Alzheimer's
Games are common in checklists of gifts for Alzheimer's patients, because they provide mental stimulation and pleasant interaction for patients and their families and other caregivers.
A July 2016 report concerning reinterpretation of data from a 10-year study related to warding off Alzheimer's is creating a stir about cutting risk of the disease through computer brain games.
Registered nurses who aid Alzheimer's patients know all too well the impacts the disease has on patients' families. One concern that often arises is vulnerability of other family members to the disease and what they can do to avoid it.
Many members of Alzheimer's families are interested in whether brain training through computer games may be beneficial.

National Institutes of Health ACTIVE Study
The study "Advanced Cognitive Training for Independent and Vital Elderly" (ACTIVE) began in 1996 and sought to discover whether brain training activities could positively affect healthy participants whose average age was 74 years old. It involved roughly 2,800 participants who were divided into three groups for different kinds of training — memory, reasoning and speed of mental processing — plus a control group.
Original interpretation of the data focused on whether certain kinds of brain games could help people with tasks such as simple math and driving. But new analysis focused on answering whether the training delayed mental decline from Alzheimer's.
According to a July 27, 2016, report about new analysis of ACTIVE data, researchers found that participants in the speed-of-processing group showed a dramatically lowered (48 percent) development of "Alzheimer's or other forms of dementia" ten years after training. What's amazing is the participants played the game for a total of 10 to 14 hours, all within the first half of the 10-year time frame.
The ACTIVE study didn't concern computerized brain training. However, the new data analysis likely will encourage production of even more computer brain games than are currently on the market.
Healthy Choices for Active Brains
"At present, there's no clear prescription medical providers can offer for preventing Alzheimer's," said Sarah Wood, manager of Visiting Nurse Health System's Private Duty Program, "but regular exercise, a low fat diet and social engagement may help maintain cognitive health".
Computer brain training may be part of the mix for cognitive health. However, as The New York Times reported about maintaining brain fitness on July 6, 2016, we need to do more than play games online.
Avoiding isolation is important. So is physical exercise, healthy diet, social interaction and opportunities to learn something new. Along with brain games, these are ingredients in a recipe for mental stimulation. Contact us to learn more about how Visiting Nurse currently helps patients manage Alzheimer to improve their quality of life.