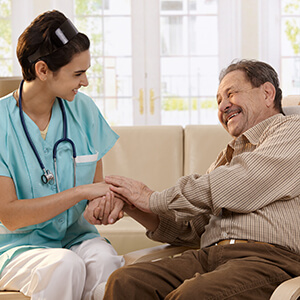 Have You Ever Considered a Nursing Career?
Whether you're a college graduate or a career changer, you've probably noticed that healthcare as an industry presents enormous employment opportunities. In fact, nursing tops the list of careers most in demand. It's no surprise, our aging population is growing exponentially – baby boomers turn 70 at the rate of 10,000 a day.

If you've ever thought about pursuing a career in nursing, consider these compelling facts.
The national nursing shortage – Nursing is the fastest growing occupation in the U.S. As a higher percentage of nurses retire and a growing number of patients with more complex health conditions rises, the rate of nurses entering the workforce is not enough to meet the demand. This puts those with a nursing degree in a good position to choose from job openings across the country. The southern and western regions of the U.S. offer the greatest number of openings, due to the higher percentage of retirees.
Atlanta is home to numerous universities that offer nursing programs – Becoming a registered nurse requires a minimum of a two-year Associates degree in nursing. An undergraduate degree opens more opportunities. Emory, Georgia State University, and Kennesaw State University are a few of the schools in Atlanta that offer undergraduate, graduate and in some cases, doctorate degrees in nursing. Accelerated programs are available for those with a bachelor's degree in a non-nursing discipline.
Financial aid for nursing programs is available Repayment of student loans is a valid consideration for anyone seeking an advanced degree. To encourage students to take positions in underserved areas the NURSE Corps Loan Repayment Program will pay a majority of student loan debt to qualified applicants. A complete list of financial resources for nursing programs can be found on the American Association of Colleges of Nursing website.
Earning potential of nurses is greater than you think – According to the Bureau of Labor Statistics, the annual median pay for RNs in 2016 was in the mid-$60k range. This is in line with the average yearly salary for nurses in the Atlanta area. Keep in mind, there are many nursing specialties, from cardiac and neonatal nursing to critical care nursing, so earnings may vary depending on the area of focus you pursue.
If you're interested in learning more about a career in nursing check out the American Nursing Association. Like many healthcare providers, Visiting Nurse is continually interviewing qualified candidates for home healthcare and hospice nursing positions in patients' homes or in Hospice Atlanta Center.