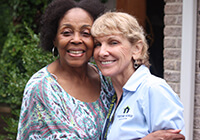 The Community Benefits of Home Care
There's no place like home, especially when you're sick or recovering from surgery. Who doesn't prefer to rest in the comfort of home, in familiar surroundings with family, friends and beloved pets? While hospitals are an important community resource for emergency and critical care, home is often where the journey leads us.
Home Care Resources for a Healthy, Productive Society
Fortunately, we live in a time when available resources for home care are abundant – often regardless of an individual's ability to pay for many of the home care services offered in our communities. From services including meal preparation and light housekeeping to infusion therapy and end-of-life care, most of the needs required can be met in the comfort and security of your home or the place you call home. Falls can be reduced, symptoms can be managed in-home and using remote monitoring, and further hospitalizations can be prevented when families rely on these resources for help. The entire community benefits when people remain active and are able to enjoy the best quality of life possible, engaging as a healthier society contributing socially and financially.
One often overlooked benefit of home care to communities is the jobs it provides. Due largely to the huge baby-boomer population, nearly one million Americans are employed as home health aides, and the role is expected to grow faster than average at 38 percent over the next seven years according to the Bureau of Labor Statistics. A high school diploma and short-term training offer applicants entry into the field of healthcare while helping people remain living in their homes. The fastest-growing occupations also include nurse practitioners, and jobs in physical and occupational therapy. The forecast predicts these opportunities will continue to grow at an accelerated pace. And because the need for these skills is so great, healthcare professionals are often working in the field longer – sometimes as a second or third career and often as a way to give back to their communities or to fulfill a life-long dream. The ripple effect further benefits communities as education resources are needed to meet the demand for training new healthcare professionals.
Visiting Nurse Health System offers in-home services ranging from our Long-Term Care at Home program to Disease Management, Home Healthcare and Hospice care. To learn more about how to receive these services or to join our team as a healthcare professional, call 404-215-6000.