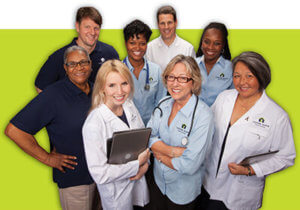 How Do You Become a Candidate for the Clinical Team at Visiting Nurse Health System?
Know a nurse who needs a change of scenery? Recruiting highly qualified nurses is one of the most important ways Visiting Nurse maintains the quality of our services and meets the needs of the community.
The process for becoming a home healthcare professional may seem intimidating, but the Visiting Nurse recruitment team makes it easy.
Am I Qualified? Is Visiting Nurse Right for Me?
The ideal background for clinicians at Visiting Nurse is to have had experience as a home health or hospice RN.
Even so, nurses without this experience may still have the strong clinical background it takes to excel at Visiting Nurse.
Our recruiters are often looking for nurses with experience in the hospital setting in specific areas of care, with transferable skills that will most benefit our patients:
Critical care
Med-Surg
Geriatrics
Emergency
Oncology
What makes a "great" home healthcare nurse?
Critical thinking skills;
Strong clinical skills;
Excellent time management skills, and
Experience with computers (especially use of electronic medical records), as well as mobile technologies like smartphones and tablets.
"You're Hired!" – What Now?
Following professional screenings and background checks, our nurses will spend their first six weeks in a rigorous full-time training and orientation program. Our educators will combine classroom and training in the field to ensure our nurses have the skills and experience to deliver our unparalleled quality of care. No other agencies offer the depth of preparation and training we provide our clinicians.
Over a transitional period of three to four months, new nurses will work with preceptors and gradually build their caseloads. A full-time nurse will usually have as many as 25-30 patients weekly, with each patient receiving one-on-one visits to help keep them happy, healthy and out of emergency care settings.
Different Than the Hospital Environment
How do nurses at Visiting Nurse work differently than a nurse in the hospital?
One-on-one time with patients – Few clinical environments offer uninterrupted time with each patient and the family or caregiver. Care is provided at home or in the place the patient calls home, meaning time can be spent offering education, quality care, valuable support and social contact. There is no better way to impact patients' lives than through this direct, 1:1 relationship.
Scheduling Benefits – Our clinicians generally work on a Monday-Friday schedule, with a call rotation schedule that usually enables them to work only one out of every eight weekends.
Exceptional training – Our patients are high acuity, requiring critical thinking skills and individualized care. Visiting Nurse supports our clinicians by offering the in-depth training they need to effectively address patient needs.
Independent care management combined with team support – While working independently to provide hands-on clinical care in the field, each nurse is part of a dynamic interdisciplinary team. Clinical supervisors, wound care nurses, physical therapists, case managers and social workers are all part of the team supporting our nurses. Phone conferences, supportive preceptors and managers help nurses answer clinical questions and offer patients the best possible care.
Nonprofit Mission – With a commitment to improving the lives of those we serve, Visiting Nurse focuses on the quality of care, the patient experience and the benefits to the Greater Atlanta community.
Reach Out!
Nurses interested in learning more about our home healthcare or hospice care positions can search all jobs and apply online at www.vnhs.org/careers.
Hiring managers work out of four locations around Atlanta. As a result, nurses generally provide care close to where they live. We are proud to offer our nurses the opportunity to serve their home communities and adjacent territories.
Once an application has been submitted and a resume attached, our recruiters conduct phone screenings and interviews. Applicant tracking is reviewed daily, and our recruiters reach out proactively to qualified candidates.
In Short…
The hiring process can move pretty fast for a good match! Visiting Nurse has a lot to offer Atlanta's top clinicians.
We invite you or a nurse in your life to learn more and join our team!