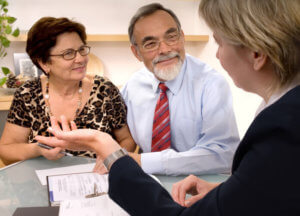 It is Easier Than You Think to Leave a Meaningful Legacy
When you make financial plans to build a legacy, the assets you built over a lifetime can continue to work for causes that are important to you.
Many of Visiting Nurse's donors are grateful patients or family members who have experienced firsthand the exceptional care we provide to everyone in the community.
"We serve those who need our care, meaning we don't discriminate based on ability to pay or diagnosis – and that means a lot to the people who give to us," says Sarah Matthews, Director of Individual Giving for Visiting Nurse Health System and Hospice Atlanta, a division of Visiting Nurse.
Determining your best gift
The type of asset is important – consider cash, real estate, life insurance or an IRA. You may also want to consider your goals and age when you give.
Visiting Nurse's new planned giving page offers helpful features, such as an online calculator to help you explore not only how much you could give, but when and how.
One simple way for individuals to give involves life insurance or retirement funds. When you re-enroll for benefits at your place of employment, you have the option to name a beneficiary or secondary beneficiary of those assets. Some people make an election then, by simply filling out a form. This type of gift requires no extra financial advice.
Perhaps the most straightforward kind of gift comes from your will: a bequest. This can be as simple as adding a sentence such as "I give to Visiting Nurse Health System/Hospice Atlanta, 5775 Glenridge Drive, Suite E200, Atlanta, GA 30328, an amount equal to (state dollar amount or percentage of estate) for its unrestricted use."
By adding this one sentence, you may realize potential tax savings for your estate and you will be able to improve someone's life through your caring gift.
A financial planner can present the best options for more in-depth types of estate planning, such as a donor advised fund or charitable trusts. Our individual giving team also can work with you to explain the ways to give and how you can leave a legacy.
Discovering the benefits of giving
Making a planned gift can benefit you, your heirs and a nonprofit organization like Visiting Nurse. By making a plan, you can free your family from managing your legacy later, and your heirs will feel confident that your assets are going to the charity of your choice.
Although there are many ways to leave a gift to an organization, it doesn't have to be complicated; it just has to reflect your values. Demonstrating your gratitude and illustrating that you value home healthcare and hospice care for all can be a powerful witness to your family and friends.
As Georgia's largest nonprofit healthcare and hospice provider, we rely on planned gifts and annual gifts from generous donors to help us provide care to patients, regardless of their ability to pay. We provide hospice and home healthcare daily to more than 6,000 patients.
To learn more about making a planned gift, please call our Advancement department at 404-215-6010.