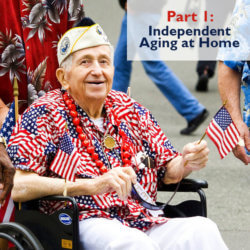 Independent Aging at Home: Part 1
By Andrea Stevenson, RN, BSN, MPH, Executive Director of Home Health Services
As we celebrate Independence Day this July, let's also celebrate the value of aging independently at home. With today's technological advances, it has never been easier to bring healthcare to a patient's home. This is particularly of value to aging patients who wish to remain independent for as long as possible. Aging independently means patients feel dignified, empowered and prepared to handle the many health-related aspects of aging. An independent patient is one who understands his or her disease or condition, and is an active participant in developing and meeting their healthcare goals.

Promoting Independence
Healthcare as an industry still has some work to do to meet the special needs of our aging population. At Visiting Nurse Health System | Hospice Atlanta, we work every day to ensure our aging patients receive care that promotes independence and self-esteem. Our philosophy is to facilitate independence in a dignified and person-centered way, meaning we always remember the patient is a person with their own unique needs. Among many publicly reported key performance indicators (see Medicare's Home Care Compare), we measure independence as being able to move around, self-bathe and get in and out of bed unassisted. Our physical therapists work on balance and ambulation to help patients move around more easily and sometimes without any assistance. Our occupational therapists work to give patients more independence through autonomy in eating and bathing. Speech therapists help patients with their communication and memory. Our nurses work to maintain independence for patients through pain control, medication management, and disease management. These kinds of skilled services help seniors regain control because, just like everyone else, seniors want to be able to remain comfortably in their homes.
To help patients be independent, we must also educate them and their caregivers. Much of our work is centered on patient education. Being a nurse not only means taking care of our patients, it also means supporting the caregivers by giving them written instructions and conducting demonstrations with them. We also conduct a clinical assessment for the caregiver, showing them how to perform medical tasks such as how to take blood pressure or administer an intravenous medication. We make sure caregivers are comfortable in their role and feel confident that they know what to do if their loved one needs medical attention. For patients without caregivers, we make sure they are cared for as if they were our own family. We assess the patient's ability to take care of themselves, and if they are unable to, we use resources from both inside and outside of our organization to develop a plan to help the patient regain their independence if possible.
Independent Aging Means Innovative Aging
With independent aging comes innovative aging. We use technology to help achieve patients' goals in the safest way possible. We observe the health of our high-risk patients using telemonitors, a device that tracks key patient biometrics. The monitors include teaching modules to help patients learn how to manage symptoms and recognize when to reach out for help. We have staff who watch the monitors and who will call the patient and their nurse if they have not connected with the monitor or if the monitor shows abnormal readings, such as a very low pulse. We also partner with Resurgia Health Solutions, an Atlanta-based, physician house-call medical practice that provides primary and interim care for homebound patients. Using these kinds of solutions, we are able to promote independent aging for our patients in their homes, assuring them help and support are near.
Hearing from our patients about how we've helped to keep them independent makes our hearts smile. One patient that had a hip replacement asked for the same therapist after a second surgery. The patient was very appreciative because she didn't expect to return to 100%, and yet she did. The caregiver wrote us a note which said, "Excellent OT [occupational therapy] and PT [physical therapy],"adding their loved one has "worked very hard and has received better therapy than she would have received in a rehab facility." Facilitating this kind of improvement toward a better outlook on life helps patients not only physically, but also mentally.
Additionally, person-centered care considers the environment and individual circumstances in which the patient lives. In the second part of this blog we focus on the ways Visiting Nurse connects patients with community resources to further facilitate independence.