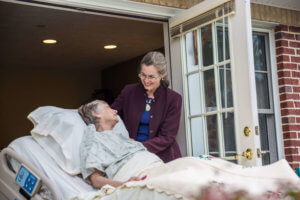 Celebrating National Hospice and Palliative Care Month During November
November is National Hospice and Palliative Care Month, which is a time to raise awareness about the care options available to those coping with life-limiting illnesses.
At Visiting Nurse Health System, we recognize November as the start of the season when families begin to gather for the holidays. Our goal is to build awareness of the care and services provided by Hospice Atlanta, especially as loved ones seek support and quality time together at this time of year.
The History of Hospice
Hospice care is a unique service that provides medical care, pain management and emotional and spiritual support to people who are in the final stages of a terminal illness. It does not speed up or slow down the process of dying. Hospice's goal is to simply keep the patient as comfortable and pain-free as possible, with loved ones nearby.
In the U.S., the hospice movement has seen incredible growth over the past several decades. The movement as we know it today was originally founded in Britain by Dame Cicely Saunders, who conceived the idea of opening a home dedicated to research and patients, especially those with incurable diseases. St. Christopher's in East London, which is Cicely's 'own' hospice, opened in 1967, and largely inspired more than 220 similar units across the United Kingdom.
People from around the world visited hospices in Britain and saw what was being done to help those in need. Following Cicely's example, they returned to their own countries, determined to give similar help to their own people.
In 2014, more than 1.6 million people received hospice treatment in the United States, the National Hospice and Palliative Care Organization estimated. The majority of patient care is provided in the place the patient calls home – often a private residence, nursing home, or residential facility.
The various services provided by a hospice program come from a team of professionals who work together to accommodate all the patients' end-of-life needs.
The team generally includes hospice doctors who work with the primary physician and family members to develop a plan of care, social workers who help the patient and family prepare for the transition to end of life, home care aids, chaplains, registered nurses, certified nursing assistants, volunteers and more. Additionally, caregiver support and bereavement support are offered to help families through this time of change.
Surprisingly, many do not realize that there is a hospice care benefit available to Americans through the Medicare program. Enacted by Congress in 1982, the Medicare Hospice Benefit has enabled millions of terminally ill Americans and their families to receive quality end-of-life care. Medicaid also covers hospice in most states, as do most private health insurance plans.
Hospice in Atlanta
What began as two women volunteers from the Unitarian Universalist Congregation caring for one of their members became Hospice Atlanta in 1975, making it the oldest hospice in the state of Georgia. As time passed, more volunteers were added, and in 1983 nurses and social workers were hired as the program became a United Way agency, enabling it to comply with newly created state and federal hospice care standards.
In 1996, the Andrew and Eula Carlos Hospice Atlanta Center—Georgia's first and largest inpatient hospice facility—opened in Atlanta. The Center's genesis was the result of the vision and significant contributions made by four founders: Dr. Arthur Booth, Eula Carlos, Mary Gellerstedt and Warren Jobe. These visionaries brought together corporate, board and community partners to make the Center a reality.
In the two decades since the Center's doors first opened, more than 10,000 patients have been cared for in the facility. The hospice program, which reaches beyond the Center into patients' homes and partner hospitals, has remained a source of unwavering person-centered care.
This year, the Center celebrated its 20th anniversary with a reception hosted by Visiting Nurse Health System. The celebration culminated with the formal opening of the Elisabeth Kübler-Ross Library in the Center, which is the only library of its kind in the Southeast.
The library's namesake is a Swiss-American psychiatrist and hospice and palliative care pioneer, who was also inspired by the work of Dame Cicely Saunders. Two years after the opening of England's St. Christopher's Hospice, she wrote a book she based on over 500 interviews with dying patients. "On Death and Dying" became a best seller and gave people firsthand insight into the emotions and stages people face when they are terminally ill. The new library, which is now open to visitors, features a display of Kübler-Ross' written works, books she loved to read and gifts she received over the years.
Our mission is to improve the lives of the patients we serve and affirm our commitment to being a safety net for patients and families in need.