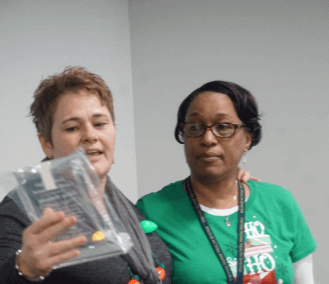 Congratulations to the 2018 Josie Carlyle Award Winner
Arlisa is like a light in the office. She is friendly, always smiling, and willing to help others; no matter what the task. She cares deeply about the work we do, our community, and bringing support to her teammates. Each week, she sends out quotes and images to remind us of the importance of what we do, to provide continuous encouragement to those around her, and to connect us to one another. Arlisa is a gift to Visiting Nurse Health System family. She is talented, kind, compassionate, and is always there to make a team member laugh when needed. She is the epitome of our values. Thank you for your dedication Arlisa and congratulations on receiving the Josie Carlyle Award of Excellence. 
The Josie Carlyle Award of Excellence was established in Josie Carlyle's honor to recognize annually an employee who exemplifies a can-do attitude, spirit of teamwork and ability to solve problems with humor and kindness, just like how Josie approached her life and work. Carlyle worked for Visiting Nurse Health System for 14 years.
Visiting Nurse Health System is Georgia's leading nonprofit provider of home healthcare, long-term care at home, and hospice services, helping patients and their loved ones receive care at home following an illness, surgery, or hospital stay.