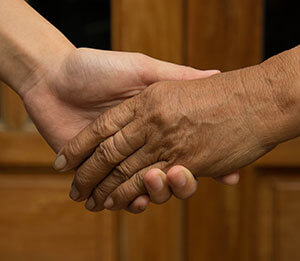 What Does a Social Worker Do?
"Social Workers Stand Up!", the national campaign launched to recognize Social Work Month, is intended to raise awareness about an often-misunderstood profession. Unless you've worked directly with a Social Worker, you may not realize what a wealth of resources and guidance one professional can contribute – all in the interest of "standing up" for those in need.
Care and Support Provided by Social Workers
Our team at Visiting Nurse Health System includes 71 Social Workers who specialize in the areas of home health and hospice care.
Here's a quick guide to understanding more about the profession of Social Work:
Social Work extends to practically every realm of public service. Professional Social Workers can be found in hospitals, schools, government agencies, mental health facilities, social service agencies and in private practice. Anywhere there's a need for guidance toward solutions to poverty, hunger, mental health crises and abuse. At Visiting Nurse, our Social Workers are focused on helping patients and their loved ones navigate healthcare decisions, tap financial resources, and undergo physical and emotional transitions in hospitals, in home and at the end of life.
Social Work isn't volunteer work. Becoming a licensed Social Worker requires a Master's degree, plus ongoing certification and training. Visiting Nurse employs Social Workers with a Master's Degree in Social Work (MSW) as well as Licensed Clinical Social Workers (LCSW). LCSWs have completed post-graduate work, received three years of supervision from an LCSW and passed a rigorous exam. The time, expense and dedication required to complete these programs is significant and highly beneficial to patients and families.
Social Workers Specialize in Home Healthcare. These clinicians focus on longer term support for those patients dealing with an ongoing, chronic health condition. Their initial assessment considers the patient's living situation to determine what resources may be helpful to promote a positive health outcome. The clinician can connect the patient and their family to financial resources, home care services, and nutritional support like a meal delivery program. The Social Worker can also facilitate different types of in-home rehabilitation, such as physical therapy or speech therapy. In-home Social Workers meet with patients and their families regularly to check that services are being delivered appropriately and to make adjustments as they are required.
Social Workers Specialize in Hospice Care. Social Workers who serve patients with a life-limiting illness. This involves assessing a patient's needs to deliver comfort care – making sure they don't experience physical or existential pain. The Social Worker can discuss end-of-life issues that may be practical in nature – having an RN manage physical symptoms, arranging for respite care, so a primary caregiver has time outside of the home. As important, the clinician provides more emotionally-focused care – arranging for a volunteer to spend time for social support, having a Hospice Chaplain visit for spiritual support.
Regardless of the area of specialization, Social Work is incredibly valuable to the support and care of the patients we serve. For more information on services provided by our team of Social Workers, please visit our home healthcare and hospice pages at vnhs.org.