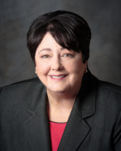 Nurses Merit Collective Thank You
By Norene Mostkoff, President/CEO of Visiting Nurse Health System and current Chairman of Visiting Nurses Association of America (as published in the Marietta Daily Journal on May 21, 2017)
Every May we recognize National Nurse Appreciation month, a time to express gratitude to these dedicated professionals who care for us with compassion, clinical excellence, and respect. I am tempted to regale you with inspirational stories of caregivers who have nursed children back to health and parents back to breathing sighs of relief, encouraged injured veterans through rehabilitation and championed their new found mobility, and who have preserved every ounce of dignity for the dying while comforting the ones they love. But, how would I chose? These are not isolated incidents after all. This is what nurses do, day in and day out.
During this month, when the spotlight is on nursing, we also pause to assess the current state of the profession and gauge how prepared we are to meet the healthcare needs of our community into the future.  What we know is that the outstanding standard of care that patients receive in hospitals, medical offices, and at home is in jeopardy. Simply, America's aging population – Baby boomers reaching 65 — has been growing, increasing demand for caregivers and the medical services they provide. At the same time, the nursing ranks have been decreasing, hampering the medical community's ability to deliver in an already over leveraged healthcare system.
In fact, current data indicates that the national nursing shortage is projected to grow to 260,000 registered nurses by 2025; in Georgia, the shortage is project to be nearly 50,000 RNs by 2020 — that's just three years from now. The median age of nurses is 46 with more than half close to retirement age. And, the shortage isn't only being felt in the exam room. It's also being felt in the classroom. Qualified nursing instructors are in short supply too. In 2012-13, U.S. nursing schools reportedly turned away 79,659 qualified applications from baccalaureate and graduate nursing programs.
With ample attention, awareness and encouragement, we can cultivate a rising generation of nurses who will proudly carry on the level of excellence modeled by their predecessors. Georgia is well on its way to investing in and attracting nurses into the field. In 2013, Governor Nathan Deal designated additional funding to the HOPE Grant Program to cover more than 90 percent of the tuition for those professions where there are plenty of jobs are unfilled. Nursing is among those professions.
Technology advancement and Atlanta's prominence as a national health IT leader holds promise that nurses across the region will have the modern tools they need to maintain the high levels of care patients expect and should receive. And of particular importance to the Visiting Nurse team is the expanding role of home nursing, which provides alternative, flexible opportunities that appeal to millennial lifestyles.
Whether it is visiting nurses or nurses in hospitals, clinics, or other healthcare settings in metro Atlanta, we know these committed professionals will persevere — undeterred by distraction, resolute in purpose. And for that, they merit a collective thank you.