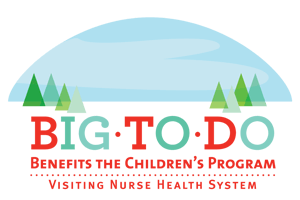 Thank you for helping us care for pediatric patients at home and at Hospice Atlanta Center
Visiting Nurse supporters, pediatric hospice families, sponsors and staff volunteers enjoyed a beautiful day on the "slopes" of Snow Mountain in support of our Children's Program. Proceeds from the day of winter fun benefit our pediatric hospice patients and their families at home and at the Hospice Atlanta Center. Attendees enjoyed snow tubing, building snowmen, making s'mores, delicious warm snacks, and posing for photos with the Snow Angel and other snow characters. A heartfelt thanks goes out to everyone who helped us raise more than $100,000!

 Like the BIG-TO-DO and see photos on Facebook
2015 BIG-TO-DO
Jennifer and Patrick Euart, co-chairs of the Host Committee, led a team that ensured all had a memorable experience. "Pat and I loved being a part of the BIG-TO-DO the past few years!" said Jennifer. "Through our involvement we have learned so much about Visiting Nurse and all they do for sick children, and of course their families. I can't thank the members of the Host Committee enough for all their support and time, and also everyone that takes the time to make the BIG-TO-DO such a special annual family event!"
Nan Lavin, from sponsor Fifth Third Bank, led a Corporate Committee who championed the BIG-TO-DO cause to companies throughout Atlanta. "Fifth Third Bank, like others companies who served on the Corporate Committee, is committed to give back to the communities in which we live and work," said Nan. "We believe in partnering with nonprofits like Visiting Nurse to help raise funds for pediatric hospice care."
Thank You  Sponsors!
Special thanks go out to individual and corporate sponsors whose generosity makes a difference to our pediatric hospice families during this difficult time in their lives. Sponsors included:
Snow Angel: The John N. Goddard Foundation
Snowmen: Palliative Pharmacy Solutions; United Healthcare of Georgia
Polar Bears: Genesis Healthcare Services; Kroger; Printpack; Towersource
Penguins: Helen & Jimmy Carlos; Susanne & Mike Cascone; Century Fire Protection; Mary Pillow Cornett & Bryant Cornett; Corporate Property Advisors; Laura & Clay Crim; Jennifer & Patrick Euart; Emily & Brad Ferguson; Fifth Third Bank; Ashley & Matt Gelber; Laura & Alan Graber; Ironwood Insurance Services; Barry Koch; McManamy, McLeod, Heller; Nelson Mullins Riley & Scarborough; Dallas & Preston Nevins; NexxLinx; The Penz Family; Kathryn & Jay Simms
Snow Bunnies: American Dream Launcher; Art & Science Collaborative; Dawn & Kevin Dwyer; Nan Lavin; Starr Moore; Karrie & Matthew Nozemack; Rain Barrel Communications; Virginia Seawell; Soap Hand Car Wash; Southeastern Laundry; Stoney River Homes; Robert Thiebaut; Sharon Umphenour