BIG-TO-DO 2016— Support Our Pediatric Program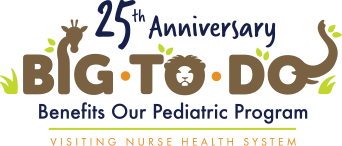 Thank you for helping us care for pediatric patients at home and at Hospice Atlanta Center
The annual BIG-TO-DO benefits the Pediatric Program of Visiting Nurse Health System. This program meets the comprehensive medical, physical, emotional, and spiritual needs of pediatric patients and their families through home healthcare, hospice and the Camp STARS grief counseling camps.
Many patients in our Children's Program are coping with the overwhelming diagnosis of a terminal illness and require care that is significantly more expensive than adult end-of-life services. In most instances, reimbursement from Medicaid or private insurance covers only half of the costs of their care. Your support enables us to serve all who need our services, regardless of their ability to pay.

 Like the BIG-TO-DO and see photos on Facebook
2016 BIG-TO-DO
On Sunday, April 24th more than 450 guests joined us as we returned to Zoo Atlanta to celebrate the 25th anniversary of the BIG-TO-DO. It was a wonderful afternoon filled with face painting, sand art, wildlife viewing and much more. Guests were able to meet several of our pediatric hospice families, as well as hear Jayson Hart (the father of 4 year old pediatric hospice patient Matthew) speak about their family's experience with Visiting Nurse and our hospice program. More than $56,000 was raised, including more than $10,000 raised through raffle sales and generous donations during our "fund a need" at the event. Thank you to all of our sponsors, donors, attendees and volunteers who made this day possible in support of our pediatric hospice families!
Thank You to our Wonderful Sponsors!
Special thanks go out to individual and corporate sponsors whose generosity makes a difference to our pediatric hospice families during this difficult time in their lives. Sponsors included:
Grateful Giraffes: John N. Goddard Foundation
Loyal Lemurs: Bank of America
Generous Joeys: The Creative Momentum
Philanthropic Pandas: Carol and Steve Raeber
Flamingo Family: The Thiebaut Family; VOYA Financial Advisors; Kimberly and Robert Rimmer; 
The Stratton Family; American One; Dawn and Kevin Dwyer; Tom and Darrah Browning
Media Sponsors: Cumulus Media; WSB
Special Thanks To: Joy Cannis Photography; Cartoon Network; Donna Ham Photography; Ed Voyles Chrysler Dodge Jeep Ram